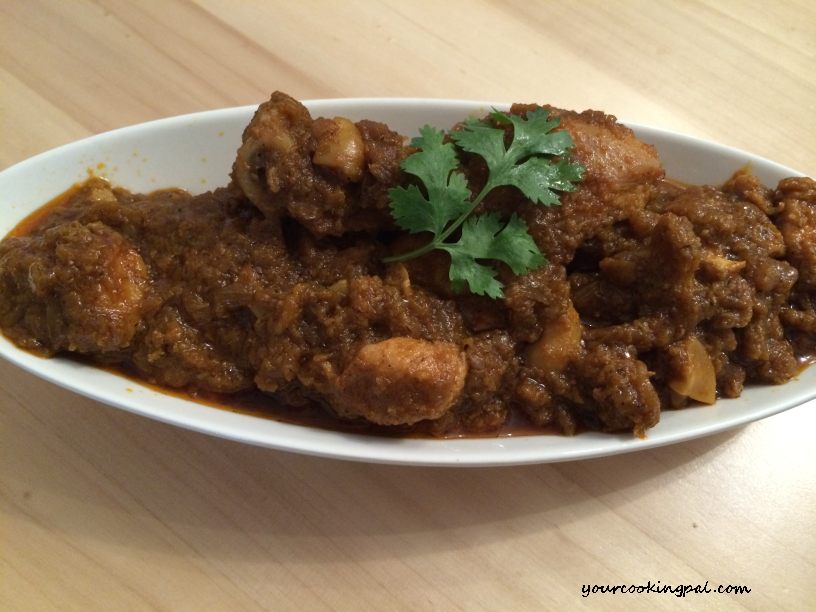 Yield: 3 people
Prep Time: 15 minutes
Cook Time: 25 minutes
Print
Dry chicken with Cashewnut
Dry Chicken with Cashewnut is an authentic style chicken dish  from the coastal regions of Maharashtra in India.  The use of cashewnut is quite predominant in most of the dishes since cashewnut is widely grown in the Konkan regions of Maharashtra. However its optional  you could make it without those too and I promise it will taste equally good. The use of Malwani Masala (spice mix) adds a special hint of flavour to the chicken. This dish is spicy, flavoursome with  succulent Chicken pieces. It is an all time family favourite and I am sure you will love it too.
Instructions
For the Onion and coconut paste
Heat a pan with 1/2 tsp oil  and  roast 1 onion (sliced) until golden brown.
Add ¼ cup fresh grated coconut and sauté for a minute.
Grind into a fine smooth paste with very little water.
For the chicken
Soak cashew nuts in warm water to soften.
Marinate the chicken with ½ tsp ginger garlic paste, 1 tsp curd and a pinch of salt.
Heat 5 tsp oil and add a bay leaf.
Add onion and sauté onion until soft and brown.
Add the ginger garlic paste fry until the raw aroma disappears.
Then add the coriander chilli paste.
Drain the water and add the cashew nuts and sauté for a minute.
Add Malwani Masala and mix well.
Add the chicken and salt.
Then cover and let it cook for 5 minutes.
Now open the cover and add the onion-coconut paste
Add garam masala and the dry coconut and mix well.
Cover and cook on a slow flame until the chicken is well cooked.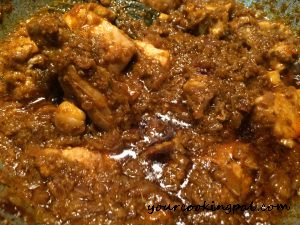 Additional Tips :-
The Malwani Masala that is used for this recipe is a blend of dried red chillies and various other spices. It is easily available in any of the Indian spice stores. In case you do not find it, you may alternatively use Deggi Mirch powder. However for this particular style of chicken tastes best with the Malwani Masala .
Use the Garam Masala recipe posted on my blog.
The Onion coconut paste also is optional, however I choose to use it so that the gravy isn't too dry and so that it can be eaten with chapatti or bhakri as well.
Add to Favourites