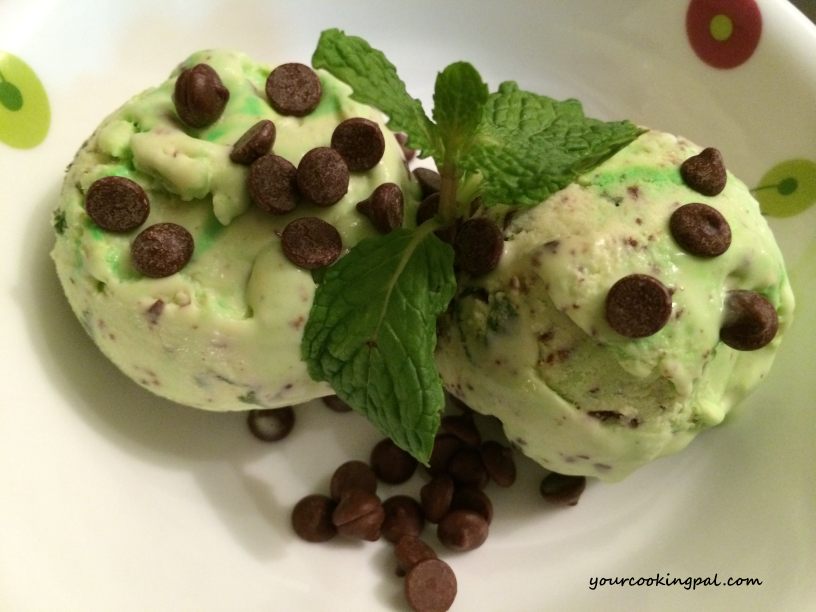 Yield: 4 people
Prep Time: 20 minutes
Cook Time: - minutes
Print
Homemade Mint Chocolate Chip Ice-cream
Making this Homemade ice-cream is easier than you think. The frozen treat is so delicious it will make you rethink buying the store bought pint. Ice cream base is a part of this recipe . So you can add any flavour to the ice cream base and  scoop up homemade ice cream of your choice.
Instructions
In a bowl add  cream and whip it with a hand blender until a firm peak is formed.
Add the condensed milk and whip it once again.
Add vanilla essence and base for the ice-cream is ready.
Keep it in an airtight container and pop it in the refrigerator for a good 3-4 hrs until is set and a little firm but not too firm.
Take the ice cream base out from the refrigerator.
Slightly crush a few chocolate chips. ( gives the ice cream a chocolatey texture as well)
In the ice cream base now add the crushed chocolate chips, whole chocolate chips and chopped mint and mix well with a spatula. ( You may also add a drop of  peppermint extract if you prefer, however I haven't added it to this recipe.)
Add 2-3 drops for green food color and mix it well.
Do not over mix if you want those ripples on the ice cream
Keep the container in the fridge and after a few hours or when the ice cream is firm it is ready to serve.
Scoop it out in a serving bowl and garnish with chocolate chips and sprig of mint.
Add to Favourites