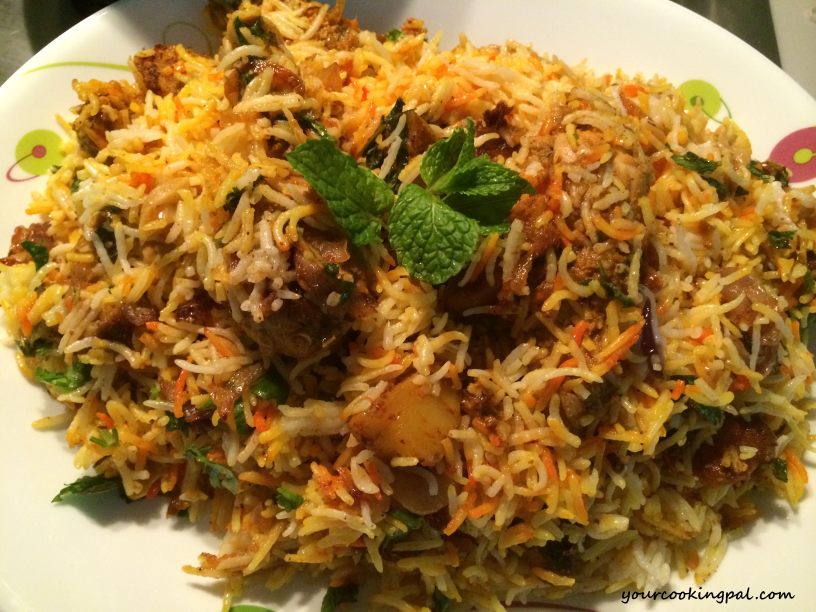 Yield: 6 people
Prep Time: 30 minutes
Cook Time: 45 minutes
Print
Chicken Biryani
Chicken Biryani is a classic dish that is a combination of rice and chicken gravy that is arranged in layers and further cooked on slow flame to combine all the flavors. Chicken Biryani is a one pot meal which is my favorite and definitely a family favorite too. There are various styles of how you can make biryani, yet this version is extremely scrumptious and I had to share it . Many of my friends requested for this sought after recipe. Give it a try and I am sure you'll find it finger licking good.
Instructions
I have divided this recipe into three parts, Making the rice, the gravy and finally the layering.
Wash the chicken thoroughly and marinate with salt and 1 tsp ginger garlic paste for atleast 1/2 an hour before preparing.
Cut 3 onions into thin slices and on medium heat deep fry them in oil  until they are crispy.  Take care you do not burn them.
Cut potatoes into wedges and apply salt, Red chilly powder, cumin powder and coriander powder. In a pan with 5 tbsp. of oil  shallow  fry them all together  until they are cooked.
For the rice
In a sauce pan boil 3 and ½ cups water and add 1 tsp salt
In a pressure cooker add 4 tsp oil and 4 tsp ghee together.
Add the whole garam masala like 2 bay leaves, 4-5 green cardamom, 2 black cardamom, 10 peppercorns and 4-5 cloves and 1 mace.
Sauté the spices for a minute and add cashew nuts.
Add the washed, soaked and drained rice and sauté for a minute.
Then add the boiling water and check the seasoning.
Cover and pressure cook until one whistle.(open the cooker only when it has completely cooled down)
For the Chicken gravy
In a pan add oil enough for frying 5 finely chopped onions, fry until evenly browned, then add 2 tsp ginger garlic paste, 2 tsp coriander-mint-green chilli paste and sauté well.
Add chopped tomatoes and mix well.
Add Biryani masala , turmeric powder and cook covered for 2-3 minutes.
Add chicken and salt and mix well.
Once the gravy starts leaving oil, add the curd.
Cover and cook until the chicken is tender and cooked well.
Then add 2-3 tsp ground dry coconut and mix well.
For Layering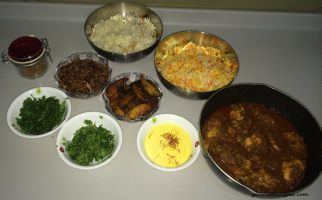 Divide the cooked rice into two equal parts and add a little liquid yellow food color in one part and let the other part remain as is.
In a deep bottom (I used a deep pressure cooker pan) greased pan, add half of the chicken, then some of the fried onion, coriander and mint leaves, some fried potatoes and sprinkle some garam masala .
Then add the white layer of rice.
Again add some fried onion, coriander and mint leaves and garam masala.
Then add the remaining chicken and again the layer of fried onions, mint, coriander leaves and garam masala.
Now add the coloured rice and spread evenly.
Then on the top again add the layer of coriander, mint leaves, fried onions and fried potatoes.
Pour the saffron infused milk over the biryani.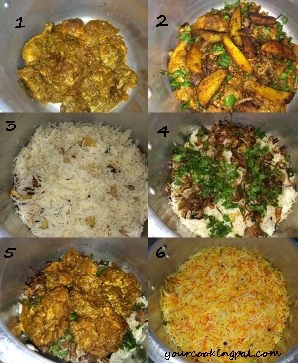 Cover  the pan with aluminium foil and a tight cover.
On a slow flame heat a tawa or a flat pan.
Place the biryani pot on it and cook on a slow flame for 10 minutes.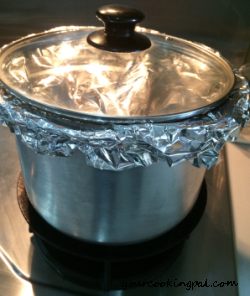 After 10 mins switch of the flame and keep it covered for another 10 minutes.
While serving it scoop it right till the bottom of the pan so as to get in all the layers of the biryani.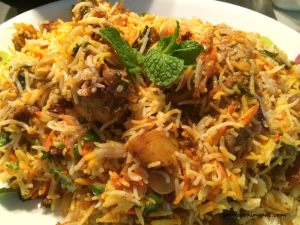 Additional Tips:
The Malwani Masala that is used for this recipe  is blend of dried red chillies and garam masala. It is easily available in any of the spice stores. In case you do not find it, you may alternatively use Deggi Mirch powder.
In this recipe I directly cooked rice in the pressure cooker to speed up the process. However you may choose whichever method is convenient.
Add to Favourites