Prep Time: 10 minutes
Cook Time: 25 minutes
Print
Dry Chicken
Chicken can be made in numerous ways , this is an amazingly flavourful and spicy dry chicken recipe. Try it out and I am sure you will want to make it again and again :)
Instructions
For the Onion and coconut paste
Heat a pan with 1/2 tsp oil  and  roast 1/2  onion (sliced) until golden brown.
Add 4 tsp  fresh grated coconut and sauté for a minute.
Grind into a fine smooth paste with very little water.
For Coriander-mint- green chilli- ginger- garlic paste just grind all  ingredients into a fine paste with very less water.
For the chicken
Heat 3-4  tsp oil and add a bay leaf.
Add onion and sauté it until soft and slightly brown.
Add Coriander-mint- green chilli- ginger- garlic paste and mix well.
Add Malwani Masala ( alternative Deggi Mirch powder ) and mix well.
Add the chicken and salt.
Then cover and let it cook for 5 minutes.
Now open the cover and add the onion-coconut paste.
You may check the seasoning at this point in time and add it.
Again cover and cook for 2-3 minutes
Add garam masala and the dry coconut and mix well.
Cook for 2-3 minutes.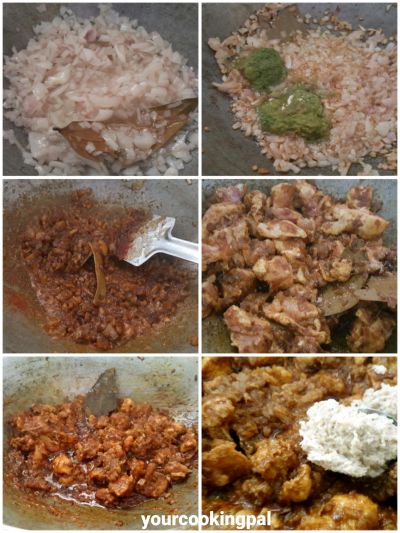 Serve hot alongwith Chapati / Roti/ Nan.
Note :
I have already posted a recipe for Dry Chicken however it is slightly different from this in which I have also added Cashewnut . Do check that out as well Dry Chicken with Cashewnuts.
The Malwani Masala that is used for this recipe is a blend of dried red chillies and various other spices. It is easily available in any of the Indian spice stores. In case you do not find it, you may alternatively use Deggi Mirch powder. However for this particular style of chicken tastes best with the Malwani Masala .
Add to Favourites