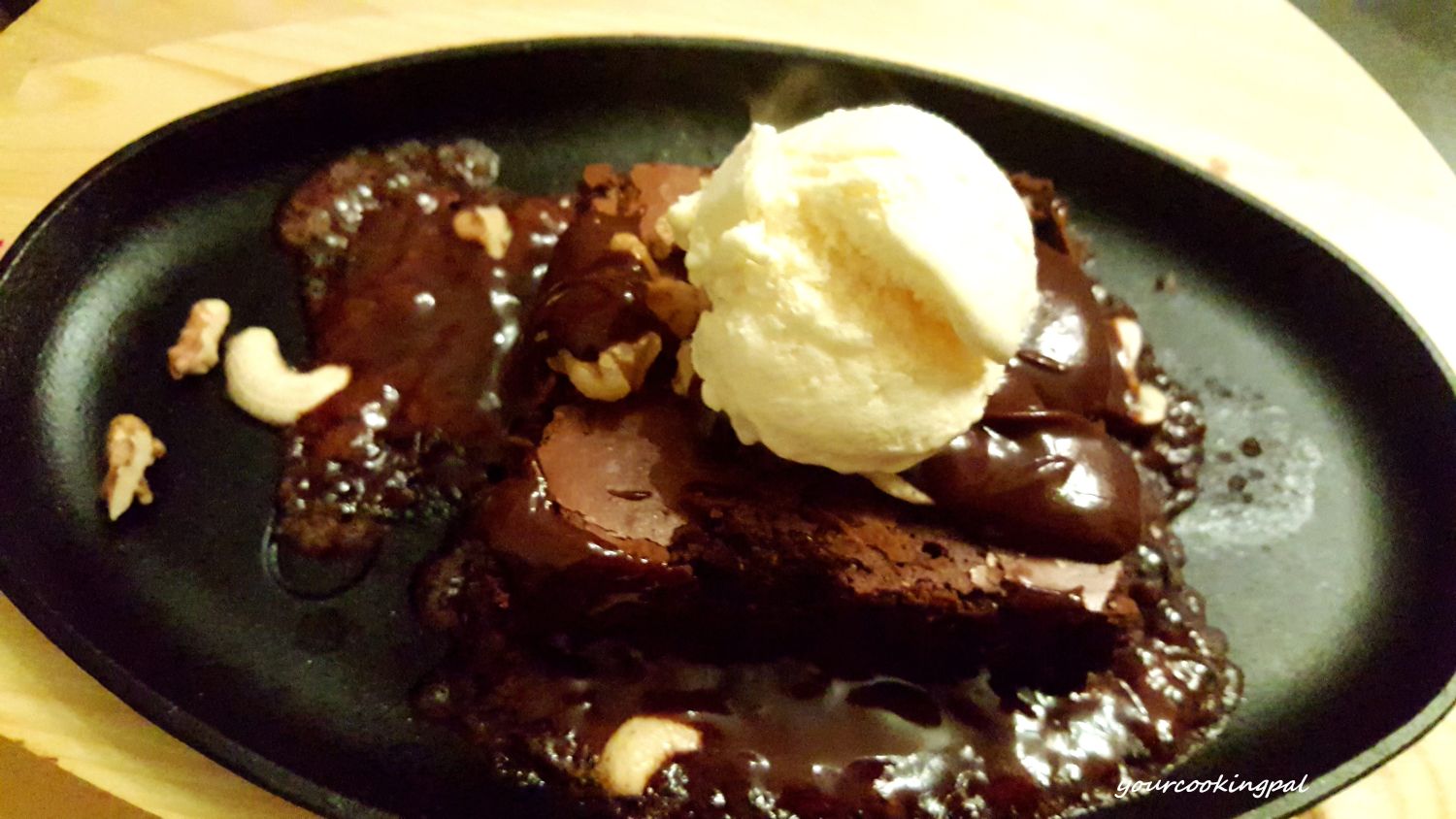 Yield: 2 people
Prep Time: 10 minutes
Cook Time: 5 minutes
Print
Sizzling Brownie
Sizzling Brownie  a hot, chocolaty brownie served on a sizzler plate with a dollop of ice cream and a topped with nuts and chocolate sauce.. This trendy dessert that we always order in restaurants is so easy to make. Its fun to enjoy this heavenly goodness at the comfort of your home :)
Instructions
To make Chocolate Sauce
In a microwave proof bowl add Chocolate chips and melt them. ( Every Microwave is different and so are the settings.) The golden rule to melt chocolate in a microwave is to go slow, i.e keep a check on it while microwaving, melt it on a lower heat and short intervals like 30-40 secs, so that you prevent the chocolate from burning.
Add cream and mix  well.
To arrange the sizzler plate
Heat the sizzler plate for a good 15 -20 mins on medium flame or until its extremely hot.
Carefully place the sizzler plate on the wooden stand with the help of kitchen Pincers ( pakkad).
Place the Chocolate Brownie in the centre of the plate
Place a scoop of ice cream in the brownie.
Add a few walnuts and cashew nuts.
And drizzle with chocolate sauce on top.
Note :
Please refer to the Brownie recipe here http://yourcookingpal.com/cakes/chocolate-brownie/
If you don't have a sizzler plate you could alternatively serve it on a cast iron plate/pan too. Just ensure to place the plate on a wooden board while serving.
Add to Favourites