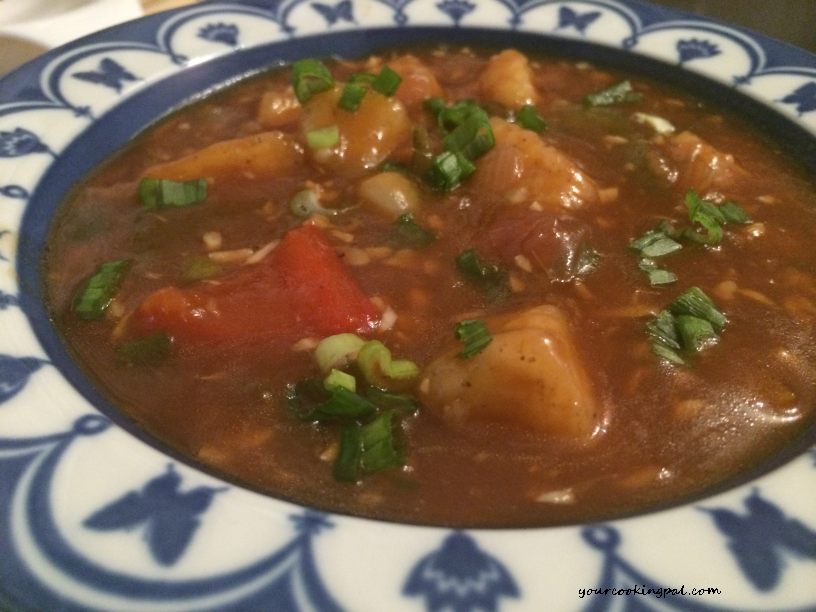 Yield: 4 people
Prep Time: 10 minutes
Cook Time: 15 minutes
Print
Paneer Chilli Gravy
Paneer Chilli gravy is a perfect Indo Chinese gravy dish. Paneer cubes ,deep fried and then added to the gravy gives the dish an unique flavour. It is definitely a family favourite and whenever the menu is Indo Chinese, I definitely make it . This spicy gravy goes so well with any Indo Chinese Rice or Noodles.
Instructions
Pat dry the paneer and cut them into cubes.
In a plate add 3-4 tsp corn flour and 1/4 tsp pepper powder.
Add the paneer cubes and coat them  dry from all sides with the corn flour.
Deep fry these coated Paneer cubes in oil and keep them aside.
Dissolve the stock cube in 1/2 cup warm water and keep aside.( I use the Knorr Vegetable Stock cubes)
Also dissolve 2 tsp of corn flour in  1/4 cup water and keep aside.
Chop all the ingredients and keep them ready.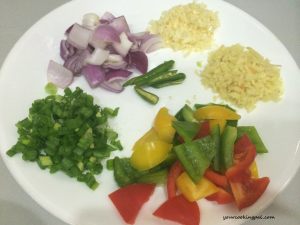 In a wok heat 3 tsp oil and add onions, garlic, ginger, slit green chillies and sauté for a minute.
Add capsicum cubes and sauté well.
Now add all the sauces and mix well. You may adjust the sauces as per your taste preference.
Add the Vegetable stock  and bring it to a boil.
Add corn flour dissolved in water and cook for a minute (This  step will thicken the gravy ).
Adjust the desired consistency for the gravy by adding water if required.
Add fried paneer cubes and salt to taste. (do not add too much salt as the stock cube also contains salt)
Add vinegar and boil for a min or so.
Garnish with spring onion greens
 Serve the hot Paneer Chilli Gravy with Schezwan fried rice   , Egg Fried Rice or Noodles .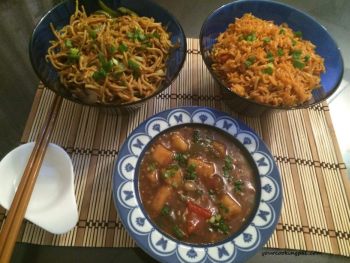 Add to Favourites