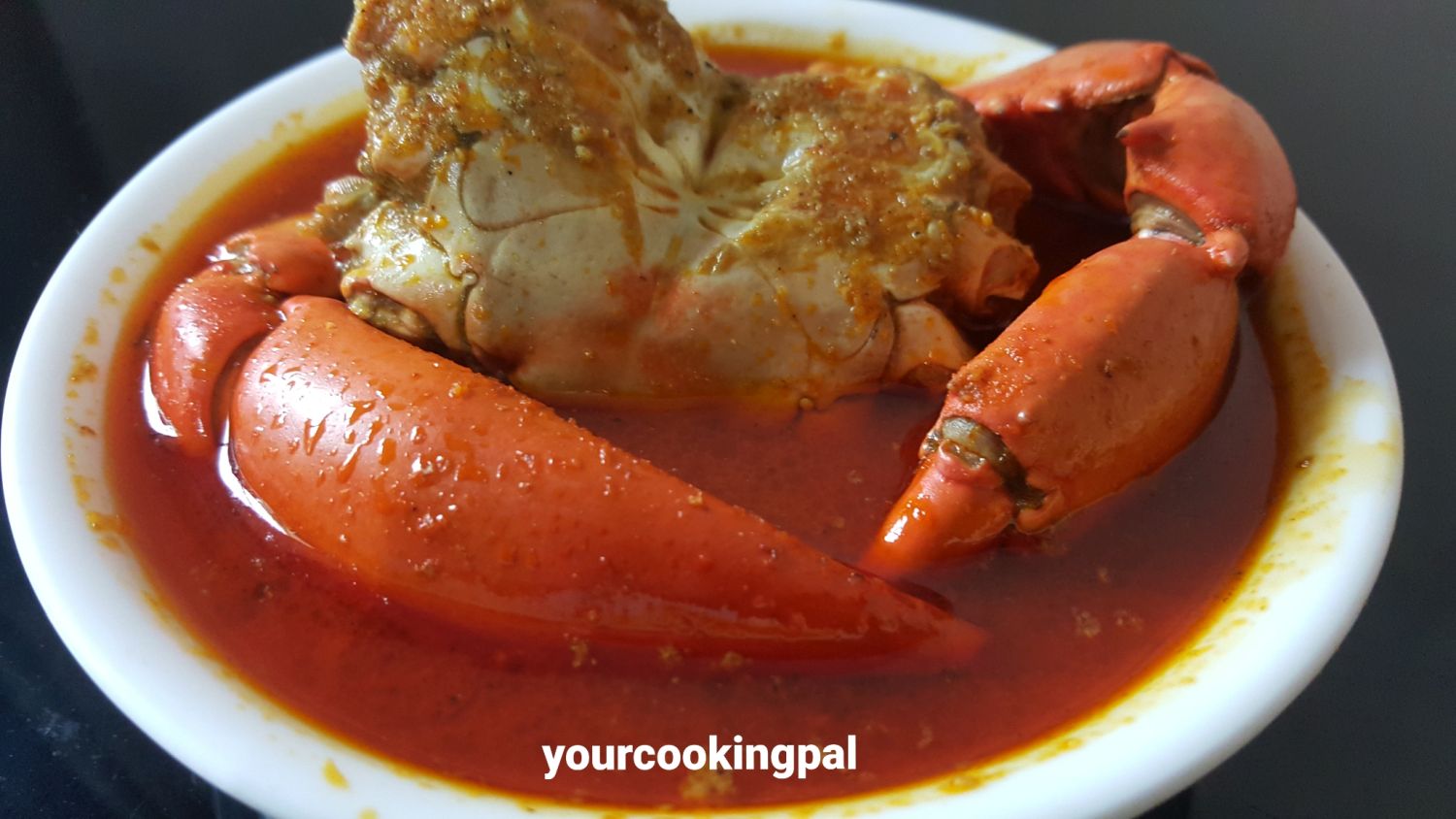 Prep Time: 25 minutes
Cook Time: 30 minutes
Print
Crab Curry
This particular Crab curry is a Mommy special. I have been having this curry since childhood. I just love this curry with chapatti or plain rice  This Crab curry  can be as hot or mild  and you like however its is exotically spicy.
Instructions
To Clean the Crab
Prepare the crabs  by washing them well.( if they are live simple add water)
Separate the Legs and the claws from the body.
Hold the crab's body in between the palms and break open the crab with the help of your fingers separating the shell from the body and pulling it apart.
Pull apart the gills around the body discard them as well.
Remove the  "apron" on a crab which is like a triangle  shell on the bottom of the crab.
Discard the shell  ( as shown in the last pic)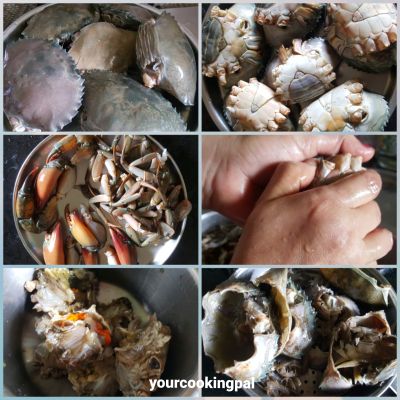 To Extract the juices out of the legs
Grind the crab legs along with some water in a blender.
Then strain it through a strainer and just take the juice.
Discard the pulp( bottom left pic) that remains in the strainer.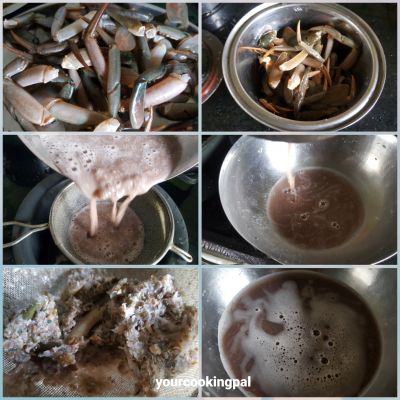 Keep the following pastes ready
Coconut - Onion paste

In a pan add 1 tsp oil and add 3 sliced onions saute until they brown. Take it out in a plate and allow it to cool.
Then add 1/2  freshly ground coconut and saute until it changes color. ( do not brown too much) Take it out on a plate as well and allow it to cool.
Once cooled  blend it along with very little water into a smooth paste and the onion and fresh coconut paste is ready.

Dry coconut powdered : lightly roast  dry coconut and powder it.
Ginger Garlic Paste
Green Chilli paste :  Coriander- Mint-Chilli - Ginger - Garlic paste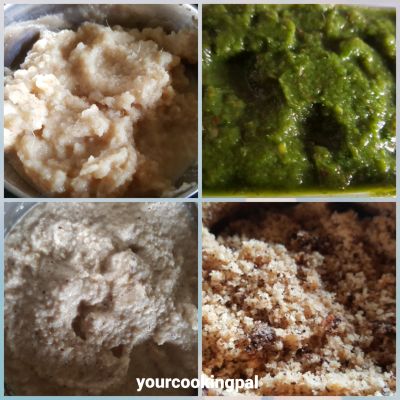 To make the crab curry
In a large deep bottomed pan heat 1/2 cup of oil.
Add 1 chopped onion and sauté for a minute.
Add the ginger Garlic paste and sauté.
Add the green Chilli paste and sauté for a min.
Add the Malwani Masala or Deggi Mirch powder and sauté well.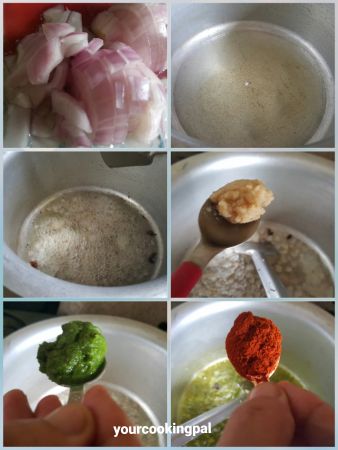 Add the cleaned crabs  and the claws and mix well also adda 1/2 cup of water.
Add the water extracted out of the legs of the crabs and mix.
Adjust the desired consistency  and to cover the crabs by add more water if you like.
Add salt  and cover and cook for 7-8 minutes until the gravy comes to a boil.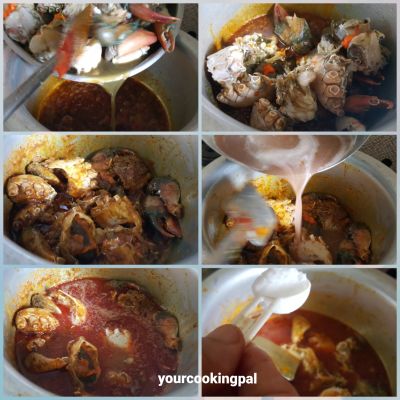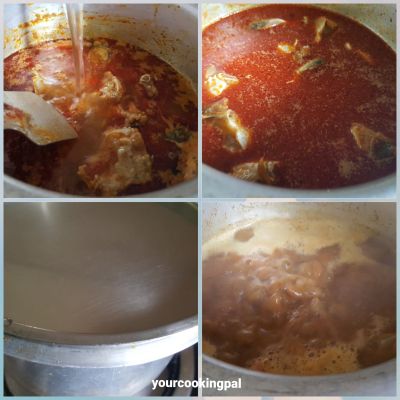 Add the dry coconut powder and mix well.
Add the garam Masala powder.
Add the onion-coconut paste and mix well.
Boil the gravy for another 6-7 minutes.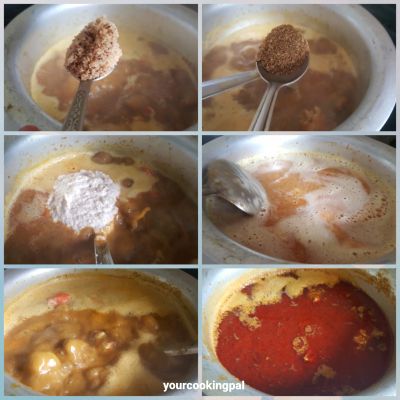 Serve hot along with Rice / Chapati.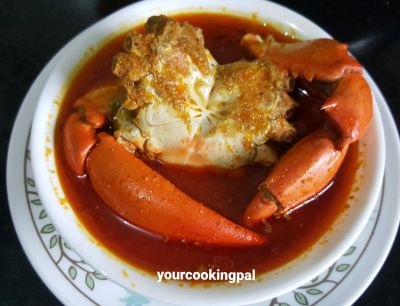 Add to Favourites