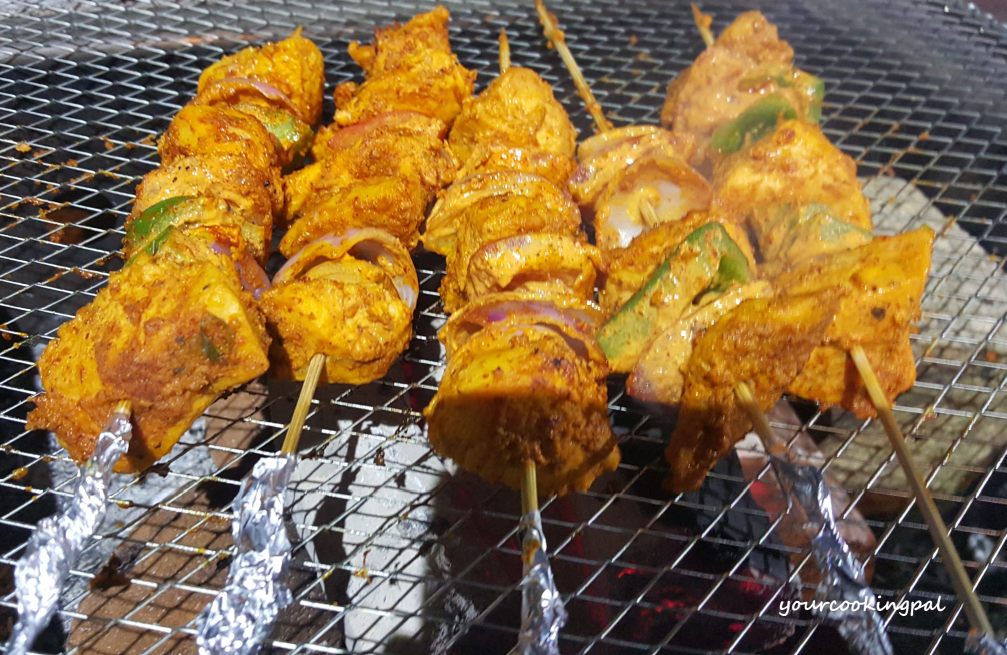 Yield: 10-12 skewers
Prep Time: 15 minutes
Cook Time: 20 minutes
Print
Chicken Tikka - How to make Barbecued Chicken
Chicken Tikka means boneless pieces of chicken marinated with  curd and other spices and then grilled or barbecued to perfection. The word Tikka simply means pieces or chunks . This is one of the most popular Indian dish around the world.
Instructions
First Marinade
In a bowl add washed and cleaned chicken cubes and apply the first marinade and  allow it to rest for 15- 20 minutes.
Second / Final Marinade
Roast the besan for about 2 mins until you get an nice aroma comes out it.
For the second and  final marinade in a bowl add the, besan , ajwain, hung curd and add all  the other mentioned ingredients.
You may taste and check the seasoning and add any spices accordingly.
Add the marinade to the chicken pieces, coating each piece well.
In another bowl you may also add a few chunky veggie pieces of your choice like Onion, capsicum, tomato etc and apply the marinade.
Keep the chicken pieces and veggies resting for atleast 3-4 hours in the refrigerator , preferably you may keep it overnite.
To arrange the chicken on skewers for barbecuing
Keep the skewers soaked in water atleast 15 to 20 minutes before cooking.
Since the chicken might take time to cook on the barbecue to save on time, you may precook the chicken pieces in a flat pan by applying butter until they are just done and then arrange on skewers. However do not over cook them.( optional step)
Now arrange the chicken pieces on the damp skewers alternatively along with the veggies.
Wrap aluminum foil around the end of the skewers.( as shown in the pic)
With a brush or a spoon apply butter to the chicken skewers on all sides.
Grill until the chicken looks well cooked and has a smoky / barbecued flavor. Serve hot with a sprinkle of chat masala , lemon wedge, salad and mint chutney on the side.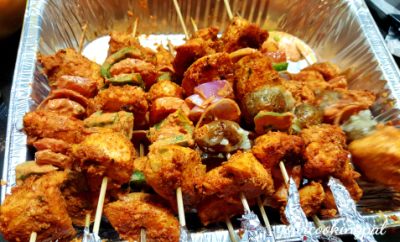 Home grilling (To get a similar effect like barbeque or tandoor )
Before arranging the chicken pieces on the skewer you may pre cook the chicken.
In a flat pan add butter and add the chicken pieces and cover and cook well from all sides until the chicken looks done.(The chicken would ooze out some water however cook uncovered until the liquid dries up.)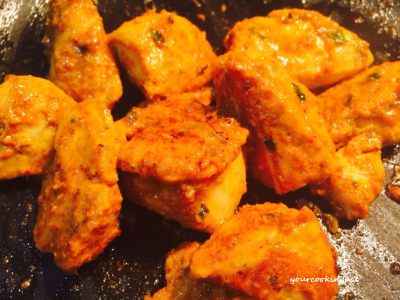 Then arrange them on skewers. Wrap aluminum foil to the end and hold them over open gas flame directly to get the chargrilled effect like done for a barbecue.
Alternatively you may also pick the chicken pieces on a fork and roast it on direct gas flame.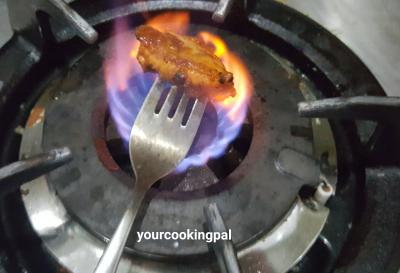 Additional tips  :-
For Hung curd simply add curd to a muslin cloth and hang it for 15-20 mins until the water is drained.
In a small separate Tadka pan add 2 tsp of Musturd oil and heat it. Cool it down and then add it to the marinade.
Add to Favourites