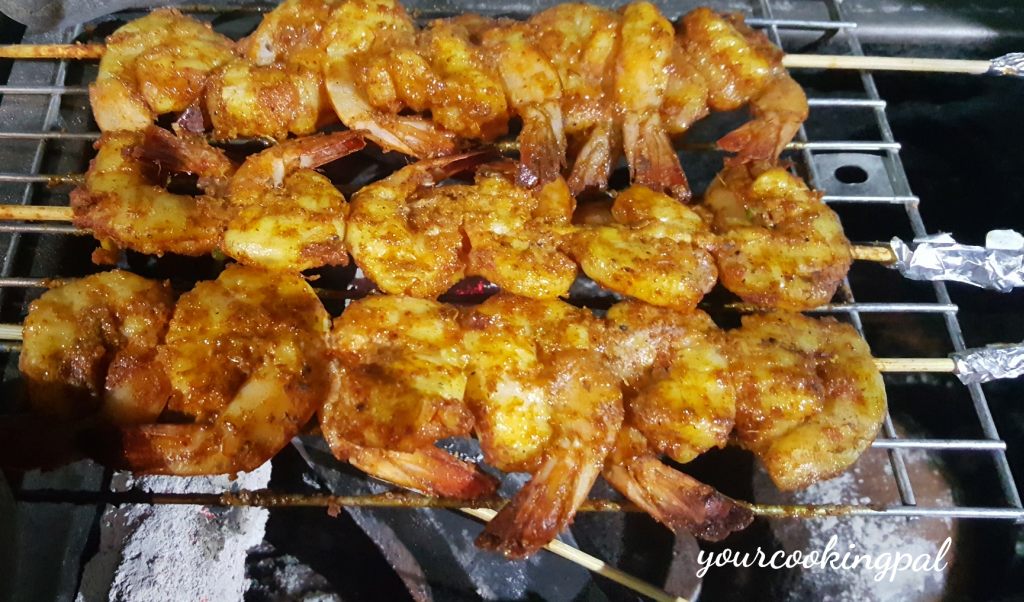 Yield: 8-9 skewers
Prep Time: 10 minutes
Cook Time: 10 minutes
Print
Tandoori Prawns - How to make Barbecue Prawns
These yummy prawns and good friends will make for a perfect and relaxed barbecue party! These skewered barbecued prawns cook quickly and stay succulent on the barbecue.
Instructions
While cleaning the prawns devein them and keep the tails intact.
First Marinade
In a bowl add all the ingredients mentioned in the first marinade and marinate the prawns for 15-20 mins.
Second and Final Marinade
Dry roast  ajwain and besan together in a pan until you get a nice aroma from the besan. Do not roast it too much.
In a bowl add all the ingredients mentioned for the second marinade.  Add salt and you may adjust by adding the spices according to your preference.
Add the marinated prawns.
Marinate the prawns at least for 30 mins ( minimum) .
Keep the skewers soaked in water at least 15 to 20 minutes before arranging them on skewers. (This prevents the skewers from burning)
Now arrange the prawns pieces on the damp skewers.
Alternatively you can also grill them on gas stove like shown below. Just  keep a watchful eye while grilling them at home on a gas stove.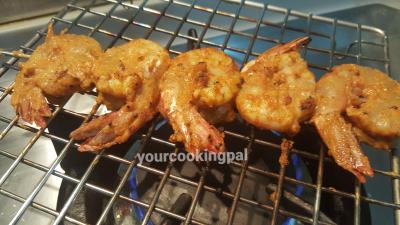 With a brush or a spoon apply butter to the prawns on all sides.
Cook them well from all sides.
Serve hot along with coriander mint chutney.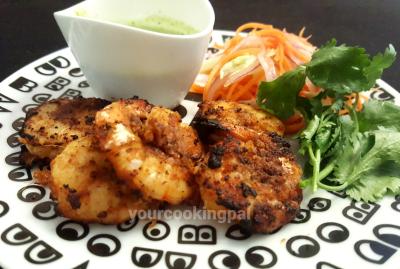 Add to Favourites