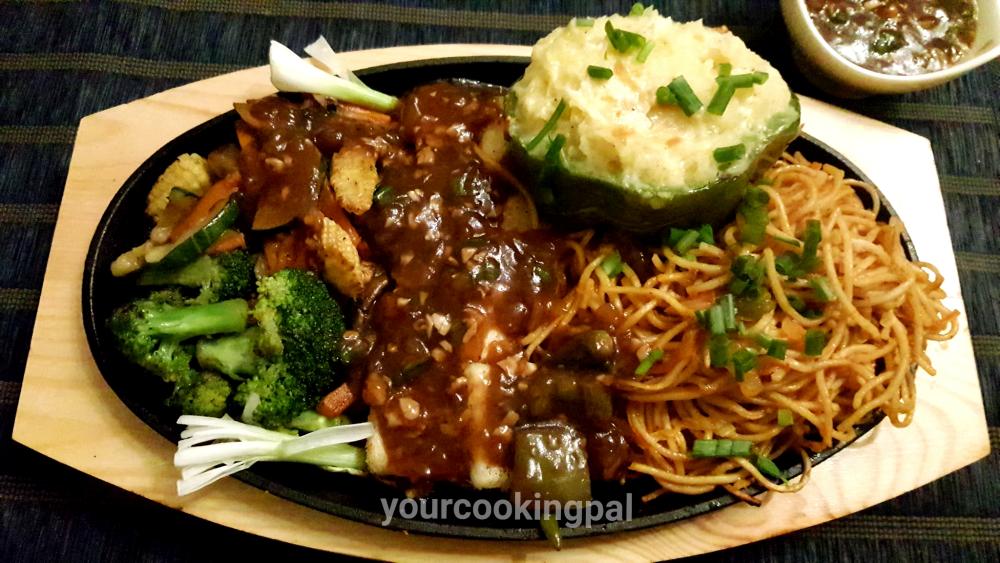 Prep Time: 20 minutes
Cook Time: 20 minutes
Print
Paneer Chilli Sizzlers with Noodles
Winter is upon us and its time to heat up a few things in kitchen to keep us warm. My personal favorite is the good old "Sizzler". Now widely available all across the world including most of the Indian restaurants. This is my take on the "Sizzler".
Instructions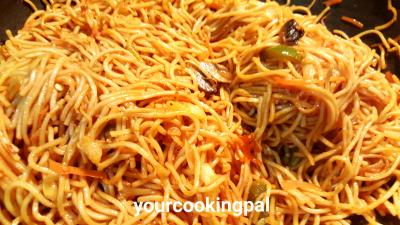 For the soya chilli sauce
Heat 2 tsp oil in a sauce pan.
Add garlic, ginger and green chilli and sauté for a minute.
Add capsicum and mix.
Add the green chilli sauce, red chilli sauce and soya sauce and mix well.
Add the vegetable stock / 1  stock cube( Knorr or Maggi Brand) dissolved in water and 1/4 cup of water as well.
Add 2 tsp corn flour dissolved in water.
Add  a little  water to adjust the consistency.
Bring to a boil and let it simmer until a slightly thick sauce is formed.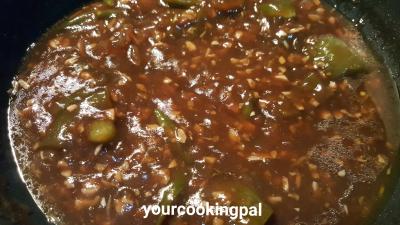 For Stuffed capsicum
Mix cheese with the boiled and mashed potatoes.(Keep some for topping)
Add salt and pepper and mix well.
Chop the top of the capsicum, carefully scooping out the seeds.
Stuff the potato and cheese mixture in the capsicum.
Top off with some grated cheese.
Preheat the oven on 180 degrees Celsius for 5 minutes.
Bake the capsicum for 10-15 minutes.
For the Stir fried veggies
Heat 2 tsp butter in a pan/wok. You may also use olive oil if required, to make it healthier.
Add all the  veggies of your choice. Add them one by one, baby corn, carrots  and broccoli go first, when they are slightly cooked then add zucchini and mushrooms and stir-fry the  vegetables in butter until they are slightly cooked (Keep the veggies nice and crunchy do not over cook them).
Add salt and pepper.
Add garlic powder if required.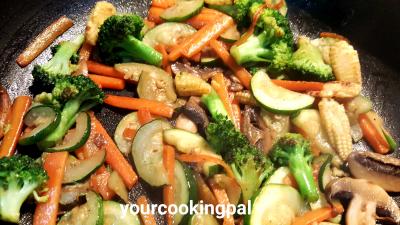 For Frying the Paneer:
Pat dry the paneer pieces and coat them with dry cornflour , salt and black pepper powder.
Deep fry them in oil until you get slight golden color.
Drain them on a kitchen towel and keep them aside .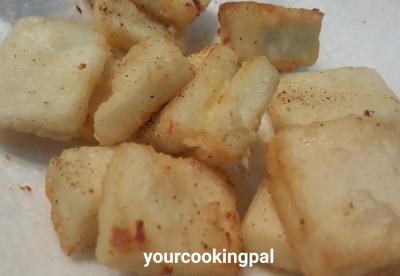 For Plating the Sizzlers
Heat the sizzler plate for 15 mins. The sizzler plate needs to be extremely hot. ( keep it longer if it doesn't heat up)
Keeping the plate on a low flame , place blanched cabbage leaves over the entire plate.
Place the stir fried veggies and arrange the fried paneer.
Place the noodles and the capsicum on one side.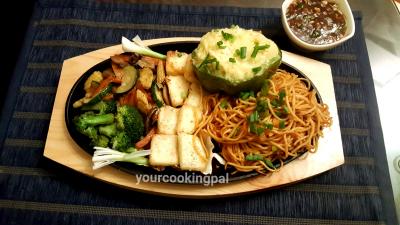 Carefully lift the sizzler plate with a tong and place it on the wooden board.
Pour some sauce on the paneer and serve the rest on the side.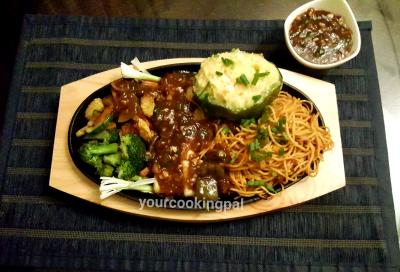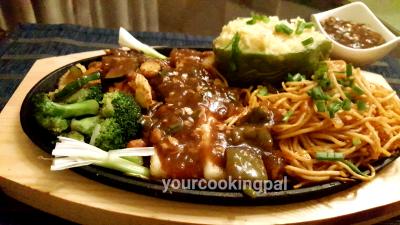 Additional tips :-
If you don't have a sizzler plate you could alternatively serve it on a cast iron plate/pan too. Just ensure to place the plate/pan on a wooden board while serving.
Do try this recipe and let me know your feedback.  Do like my page https://www.facebook.com/yourcookingpal/  to receive regular updates.  Check out http://yourcookingpal.com/ for many more recipes. Till then Happy Cooking :)
5

stars - based on

1

review(s)
".
Add to Favourites