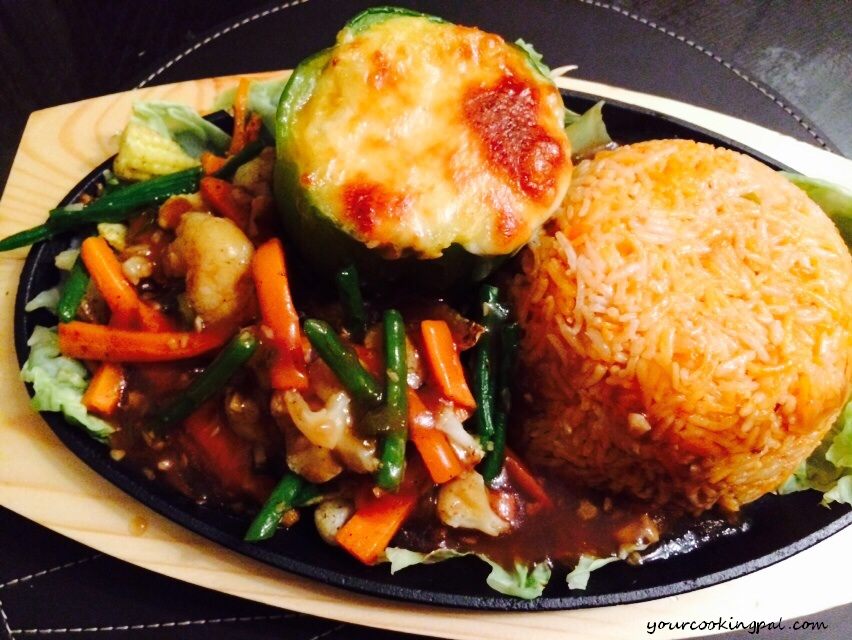 Yield: 2
Prep Time: 20 minutes
Cook Time: 25 minutes
Print
Veg Sizzler in Hot Soya Chilly Sauce
Sizzlers are served on a hot iron plate.  Whilst the plate remains extremely hot  it also gives the food a smoky flavour. This is a delightful sizzler recipe with stir fried veggies, stuffed capsicum and tangy rice, drizzled with hot soya chilli garlic sauce.
Instructions
For the rice
In a pan add 1 tsp oil
Add garlic and sauté well.
Add tomato ketchup and red chilli sauce.
Add cooked rice and salt.
For Stuffed capsicum
Mix cheese (Keep some for topping) with the boiled and mashed potatoes.
Add salt and pepper and mix well.
Chop capsicum on the top, carefully scooping out the seeds.
Stuff the potato and cheese mixture in the capsicum.
Top off with some grated cheese.
Preheat the oven on 180 degrees Celsius for 5 minutes.
Bake the capsicum for 10-15 minutes.
For the stir-fried veggies
Blanch all the veggies in boiling water for 3-4 minutes and drain them.
In a wok heat 2 tsp oil.
Add garlic and sauté for a minute.
Add all the blanched veggies and stir fry.
Add salt and pepper.
For the soya chilli sauce
Heat 1 tsp oil in a sauce pan.
Add garlic, ginger and green chilli and sauté for a minute.
Add the green chilli sauce, red chilli sauce and soya sauce and mix well.
Add the corn flour dissolved in water.
Bring to a boil and let it simmer until a slightly thick sauce is formed.
For Plating the Sizzlers
Heat the sizzler plate for 6-7 minutes.The sizzler plate needs to be extremely hot.
Keeping the plate on a low flame , place blanched cabbage leaves over the entire plate.
Place the stuffed capsicum and  the rice.
Also add the veggies to the plate.
Carefully lift the plate and place it on the wooden board.
Pour some sauce on the veggies and serve rest at the side.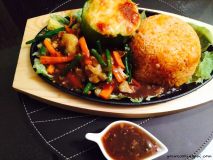 Additional tips :-
If you don't have a sizzler plate you could alternatively serve it on a cast iron plate/pan too. Just ensure to place the plate on a wooden board while serving.
Add to Favourites